On December 9, 2021, at the Alana Hotel, Yogyakarta, the Performing Arts and Visual Arts Studies (PSPSR) held a Work Program Evaluation and Projection Meeting (evaluation meeting for 2021, program activities, and strategic plans for 2022). The discourses that emerged in 2021 became an exciting reflection to welcome 2022. Apart from being related discourse, the demand to maintain a superior reputation position as Indonesia's first art study program needs to be adequately maintained. Consolidation of adjustments to policies related to regulations, education systems, educational philosophy in PSPSR in higher education operations is continuously anticipated by preparing strategies accompanied by effective and efficient programs related to art discourse in the future.
This meeting was attended by Dr. Budi Irawanto, SIP, M.A., as the Head of the PSPSR Doctoral Study Program, Dr. Rr. Paramitha Dyah Fitriasari, M. Hum., as the Head of the PSPSR Masters Study Program, Dr. G.R. Lono Lastoro Simatupang, M.A., as Academic Coordinator of the PSPSR Study Program, Ike Niken Salindri, M.A., as PSPSR Academic and Financial Staff, Agustinus Paulus Umbu Tali, M.A., as PSPSR Quality Assurance Staff, Michael HB Raditya, M.A. and Deni Kristianto as Staff of the Jurnal Kajian Seni, and M. Bayu Tejo Sampurno, M.A., as Website Staff. The holding of the Work Program Evaluation and Projection Meeting aims to realize coordination, integration, and synchronization of the work plans of each division in PSPSR in the implementation of the Tridarma of Higher Education and its supporting resources.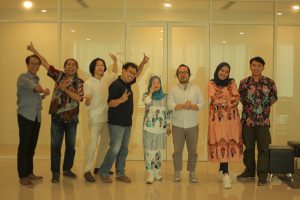 The expected result of this activity is synergy and consistency, even a leap in achieving priority targets and actions according to the main tasks and functions of the PSPSR based on the principles of performance studies and visual studies.