Performing Arts and Visual Arts Studies  program held first lecture for master's and doctoral students, Thursday (24/6) in the Auditorium Room Sekolah Pascasarjana UGM. This inaugural lecture was held for new students to get to know more about the study ...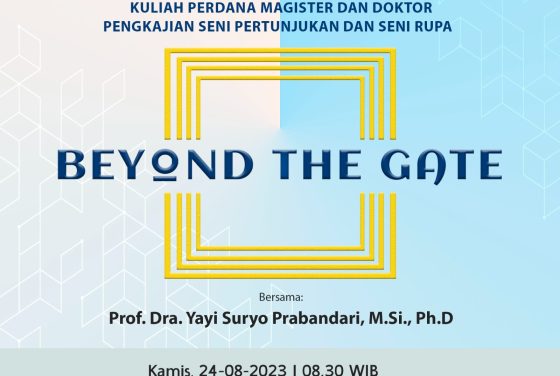 "Beyond The Gate : Kuliah Perdana Magister dan Doktor Pengkajian Seni Pertunjukan dan Seni Rupa Tahun Ajaran 2023/2024" Speaker: Prof. Dra. Yayi Suryo Prabandari, M.Si., Ph.D. Head of Health Behavior, Environment, and Social Medicine Department, Fakultas Kedokteran, Kesehatan Masyarakat dan Keperawatan ...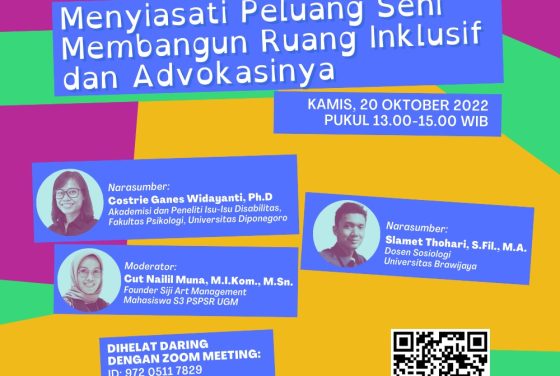 UGM PSSPR Discussion Forum: Arts After Point "Menyiasati Peluang Seni Membangun Ruang Inklusif dan Advokasinya" Speaker: Costrie Ganes Widayanti, Ph.D Scholar and Researcher in Disability Issues Fakultas Psikologi, Universitas Diponegoro Slamet Thohari, S.Fil., M.A. Sosiologi, Universitas Brawijaya Moderator: Cut Nailil ...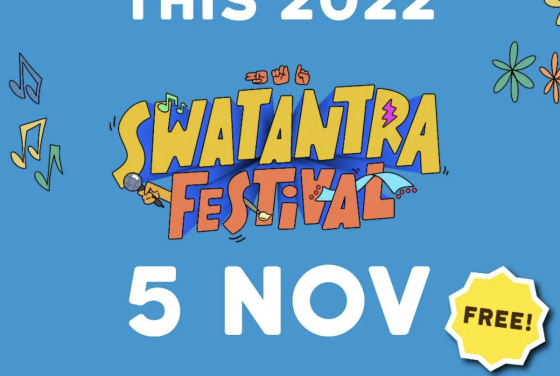 Mengusung semangat terciptanya inklusivitas, kebebasan, dan independensi dalam ranah seni, mahasiswa program studi Magister Pengkajian Seni Pertunjukan dan Seni Rupa UGM angkatan 2021 berkolaborasi dengan yayasan Jogja Disability Arts menyelenggarakan rangkaian acara pengabdian masyarakat yang berjudul Swatantra Festival. Jogja Disability ...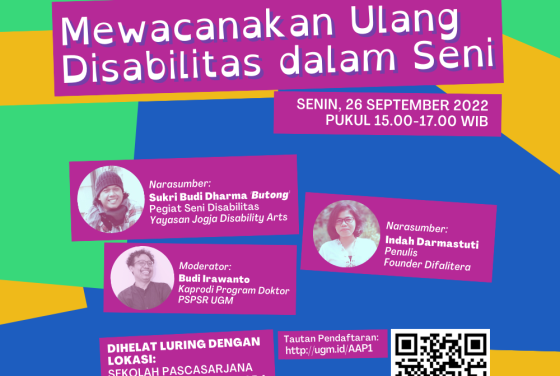 UGM PSSPR Discussion Forum: Arts After Point "Mewacanakan Ulang Disabilitas dalam Seni" Speaker: Sukri Budi Dharma 'Butong' Disability Arts Activist, Jogja Disability Arts Foundation & Indah Darmastuti Author, Founder of Difalitera Moderators: Budi Irawanto Head of PSPSR UGM Doctoral Program ...