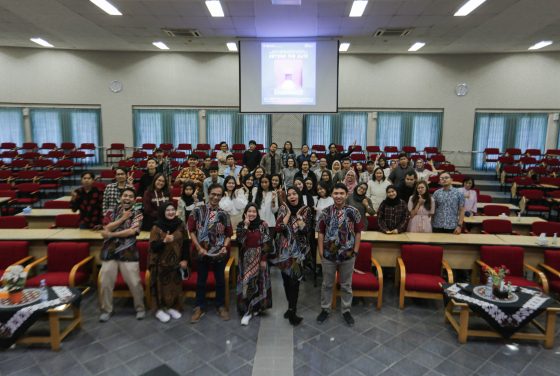 Master's and Doctoral Programs in the Performing Arts and Visual Arts Studies (PSPSR), Graduate School, on Tuesday, August 9, 2022, held an inaugural lecture with the theme "Beyond the Gate" at the 5th Floor Auditorium, Graduate School Building, UGM. Dr ...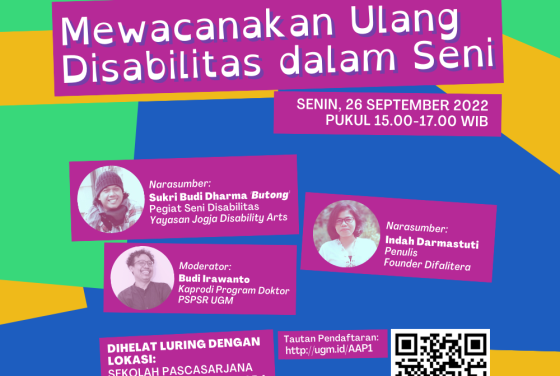 UGM PSSPR Discussion Forum: Arts After Point "Mewacanakan Ulang Disabilitas dalam Seni" Speaker: Sukri Budi Dharma 'Butong' Disability Arts Activist, Jogja Disability Arts Foundation & Indah Darmastuti Author, Founder of Difalitera Moderators: Budi Irawanto Head of PSPSR UGM Doctoral Program ...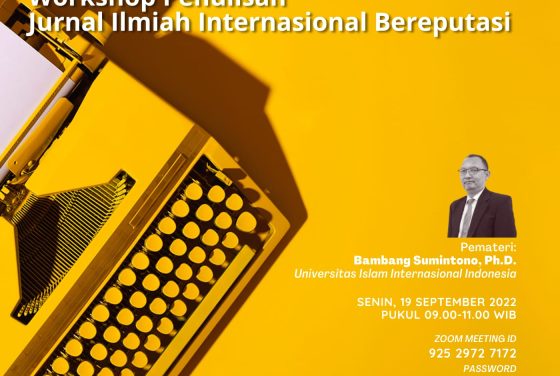 PSPSR UGM Scientific Writing Series Workshop on Writing Reputable International Scientific Journals Resource persons: Bambang Sumintono, Ph.D. (Universitas Islam Internasional Indonesia) Google Scholar: https://scholar.google.com/citations?user=_Qn3exkAAAAJ&hl=en&oi=ao Day, date: Monday, September 19, 2022 Hours: 09.00-11.00 Link: Zoom Meeting https://ugm-id.zoom.us/j/92529727172?pwd=Z0tmMVhpVFBoWExVdHc1c2VVYlVSdz09 Meeting ID: 925 2972 ...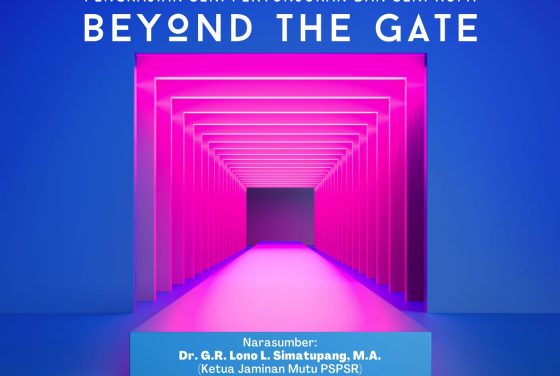 Inaugural Lecture Master and Doctorate in Performing Arts and Visual Arts Studies: Beyond The Gate Speaker: Dr. G.R. Lono L. Simatupang, M.A. (Chairman of PSPSR Quality Assurance) will be held offline on: Day, date: Tuesday, August 9, 2022 Time: 09.00 ...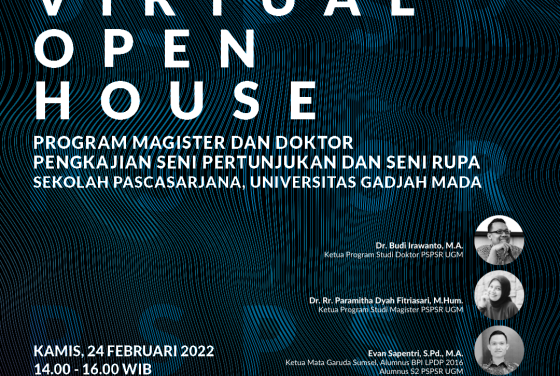 Join us for this year's Virtual Open House on Thursday, February 24, 2022, from 14.00-16.00 WIB (2pm-4pm)! The Performing Arts and Visual Arts Studies will be hosting virtual open house to give you any explanation regarding the study program from ...