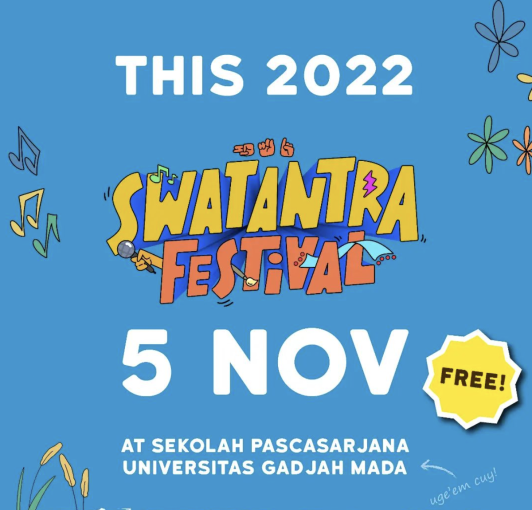 Mengusung semangat terciptanya inklusivitas, kebebasan, dan independensi dalam ranah seni, mahasiswa program studi Magister Pengkajian Seni Pertunjukan dan Seni Rupa UGM angkatan 2021 berkolaborasi dengan yayasan Jogja Disability Arts menyelenggarakan rangkaian acara pengabdian masyarakat yang berjudul Swatantra Festival.
Jogja Disability Arts merupakan sebuah organisasi seni dengan misi mewujudkan partisipasi penuh dan kesetaraan bagi para penyandang disabilitas dalam bidang seni budaya, baik di tingkat nasional maupun internasional. Pengabdian masyarakat merupakan salah satu pilar Tri Dharma Perguruan Tinggi, serta menjadi salah satu program kegiatan tahunan yang rutin diadakan oleh program studi Magister Pengkajian Seni Pertunjukan dan Seni Rupa Universitas Gadjah Mada (PSPSR UGM).
Melalui spirit dan kemauan yang selaras dengan PSPSR UGM dan Jogja Disability Arts, maka diselenggarakanlah kegiatan kolaborasi berupa pertunjukan seni bersama komunitas-komunitas disabilitas di wilayah DIY. Dengan demikian, gelaran ini diharapkan dapat menjadi sebuah ruang seni yang aksesibel bagi para penyandang disabilitas, sekaligus mewujudkan terciptanya kepedulian dan kesadaran publik melalui seni sebagai media sosialisasi.
Dengan tema "A Visit to The Unseen", merupakan pertunjukan kolaboratif antara mahasiswa program studi Pengkajian Seni Pertunjukan dan Seni Rupa dan yayasan Jogja Disability Arts. Gelaran ini akan membawa pengunjung untuk menyelami perjalanan para difabel melalui tiga fragmen instalasi naratif dan pertunjukan musik, tari, dan teater. Lebih jauh, bentuk apresiasi yang diharapkan adalah publik tidak lagi menilai sebuah karya seni yang divisualisasikan oleh seniman difabel berdasarkan latar belakang mereka sebagai sosok dengan keterbatasan fisik.
Nantikan kolaborasi kami dan rekan-rekan Jogja Disability Arts dalam puncak acara 5 November 2022 mendatang.