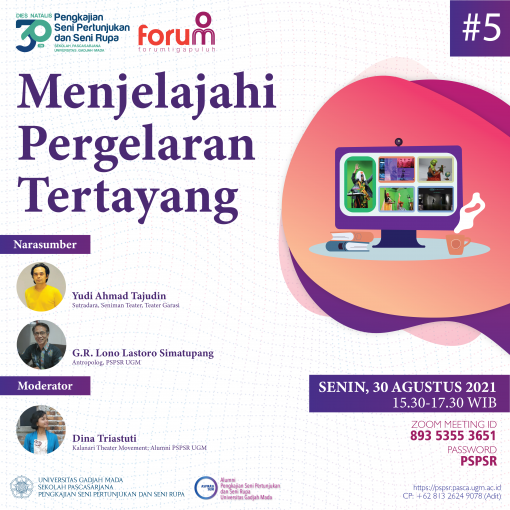 INFO DISKUSI: Forum30 #5
Dalam rangka Dies Natalis ke-30, Prodi Pengkajian Seni Pertunjukan dan Seni Rupa, Sekolah Pascasarjana, UGM (selanjutnya disebut PSPSR) dan Aspirasi Seni mengadakan seri diskusi yang bertajuk Forum30. Forum30 merupakan ruang diskusi yang mengelaborasi tema Dies Natalis PSPSR tahun 2021 ini, The Future of Arts.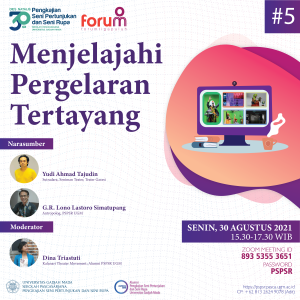 Pada seri kelima, Forum30 akan menjelajahi praktik dan kinerja dari pergelaran tertayang. Lebih lanjut, Kami menatap praktik dan pemikiran Yudi Ahmad Tajudin untuk mengartikulasikan jelajah dari UrFear Huhu and The Multitude of Peer Gynts. Apakah interaktivitas (interactivity) yang mencuat dari praktik seni di masa pandemi ini memiliki muatan relasional-nya atau lebih karena imperatif teknologis semata? Bagaimana negosiasi tersebut berlangsung? Apakah elemen 'bermain' (playfulness) yang bisa ditemukan dalam ekspresi seni pertunjukan yang berbasiskan teknologi masih mengusung semangat emansipasi (emancipation)? Selain itu, diskusi ini juga akan mengelaborasi beberapa hal, seperti: (1) Technological-Based Art Practices. Di mana praktik seni kian berkelindan dengan teknologi yang mengubah cara produksi, presentasi, sirkulasi, eksebisi dan proses konsumsi. (2) Mediating Liveness in the Age of Screen Culture. Di mana diskusi juga akan membahas tantangan seni pertunjukan ketika bermigrasi dari panggung proscenium ke layar dengan segala bentuk artikulasi/ pengungkapan baru.
"Menjelajahi Pergelaran Tertayang"
Senin, 30 Agustus 2021, pk. 15.30-17.30 WIB
Narasumber
Yudi Ahmad Tajudin
Sutradara, Seniman Teater, Teater Garasi
Penanggap
G.R. Lono Lastoro Simatupang
Antropolog, PSPSR UGM
Moderator
Dina Triastuti
Kalanari Theater Movement, Alumni PSPSR UGM
ZOOM Meeting ID: 893 5355 3651
Passcode : PSPSR
Acara ini tidak berbayar dan terbuka untuk umum
Info lebih lanjut silakan hubungi Adit di 081326249078
#Forum30 #PSPSR #Aspirasiseni #TheFutureofArts