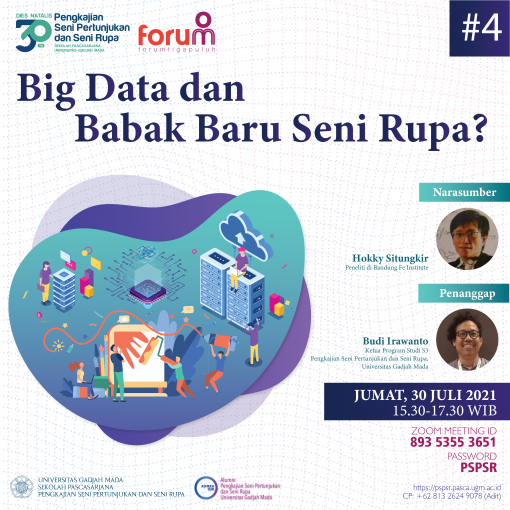 INFO DISKUSI: Forum30 #4
Dalam rangka Dies Natalis ke-30, Prodi Pengkajian Seni Pertunjukan dan Seni Rupa, Sekolah Pascasarjana, UGM (selanjutnya disebut PSPSR) dan Aspirasi Seni mengadakan seri diskusi yang bertajuk Forum30. Forum30 merupakan ruang diskusi yang mengelaborasi tema Dies Natalis PSPSR tahun 2021 ini, The Future of Arts.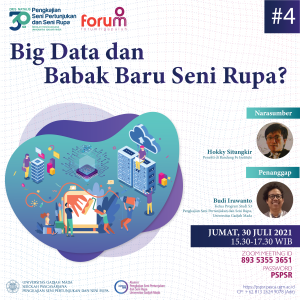 Pada seri keempat, Forum30 akan membahas big data dan babak baru seni rupa. Lebih lanjut, Kami menatap praktik dan pemikiran Pak Hokky Situngkir untuk mengartikulasikan big data dan relevansinya pada seni rupa. Pun kami juga akan mengelaborasi beberapa hal, seperti: (1) Information, Big Data and Arts, yang mendiskusikan peran informasi dan data raksasa (big data) dan interseksinya dengan seni, terutama penciptaan seni yang berbasiskan pada informasi dan data seperti dalam 'seni arsip' (archival art). Hal tersebut juga terkait pada (2) Archiving Arts and Arts of Archiving: mendiskusikan tidak hanya proses pengarsipan karya seni tapi juga seni pengarsipan itu sendiri, terutama berkaitan dengan karya seni media baru yang berbasis digital; dan bagaimana memikirkan masa depan dalam (3) Relational Arts and Digital Interactivity: membahas seni yang dianggap mendorong bagi proses interaksi sosial dan ikut membentuk lingkungan sosial ketika berhadapan dengan teknologi internet/ digital yang memfasilitasi interaktivitas secara massif dan tak jarang intens.
Big Data dan Babak Baru Seni Rupa?
Jumat, 30 Juli 2021, pk. 15.30-17.30 WIB
Narasumber
Hokky Situngkir
Bandung Fe Institute
Penanggap
Budi Irawanto
Ketua Program Studi S3 Pengkajian Seni Pertunjukan dan Seni Rupa, Sekolah Pascasarjana, Universitas Gadjah Mada
Atau:
Meeting ID: 893 5355 3651
Passcode: PSPSR
Acara ini tidak berbayar dan terbuka untuk umum
Info lebih lanjut silakan hubungi Adit di 081326249078
#Forum30 #PSPSR #Aspirasiseni #TheFutureofArts