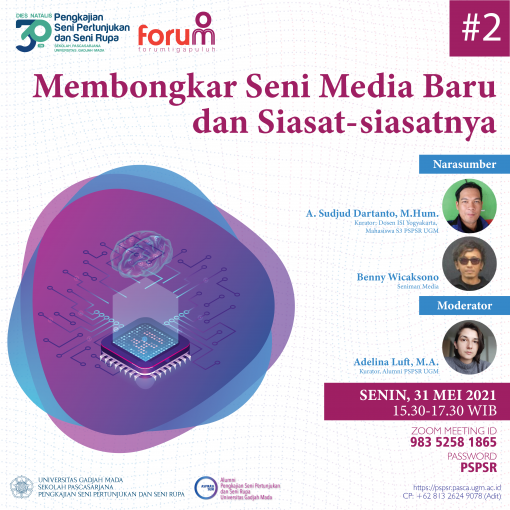 INFO DISKUSI: Forum30 #2
Dalam rangka Dies Natalis ke-30, Prodi Pengkajian Seni Pertunjukan dan Seni Rupa, Sekolah Pascasarjana, UGM (selanjutnya disebut PSPSR) dan Aspirasi Seni mengadakan seri diskusi yang bertajuk Forum30. Forum30 ini merupakan ruang diskusi yang mengelaborasi tema Dies Natalis PSPSR tahun ini, The Future of Arts.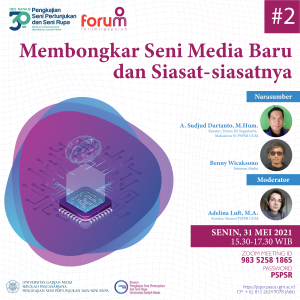 Pada seri kedua ini, kami akan membongkar perkembangan seni digital dan media baru di Indonesia, khususnya sejak seniman rupa berelasi dengan digital technology, new media, 'netarts', dan 'digital arts'. Selanjutnya, kami juga akan mengelaborasinya terhadap beberapa hal, seperti: pertama, kemungkinan lahirnya estetika baru yang bersumber dari teknologi digital. Kedua, siasat-siasat atas persoalan relational arts and digital interactivity dan arts in the age of proliferation of images.
Membongkar Seni Media Baru dan Siasat-siasatnya
Senin, 31 Mei 2021, pk. 15.30-17.30 WIB
Narasumber
1. A. Sudjud Dartanto, M.Hum.
Kurator, Dosen ISI Yogyakarta, Mahasiswa S3 PSPSR UGM
2. Benny Wicaksono
Seniman Media
Moderator
Adelina Luft, M.A.
Kurator, Alumni PSPSR UGM
Join Zoom Meeting
Klik di sini
Meeting ID: 983 5258 1865
Passcode: PSPSR
Acara ini tidak berbayar dan terbuka untuk umum
Info lebih lanjut silakan hubungi Adit di 081326249078