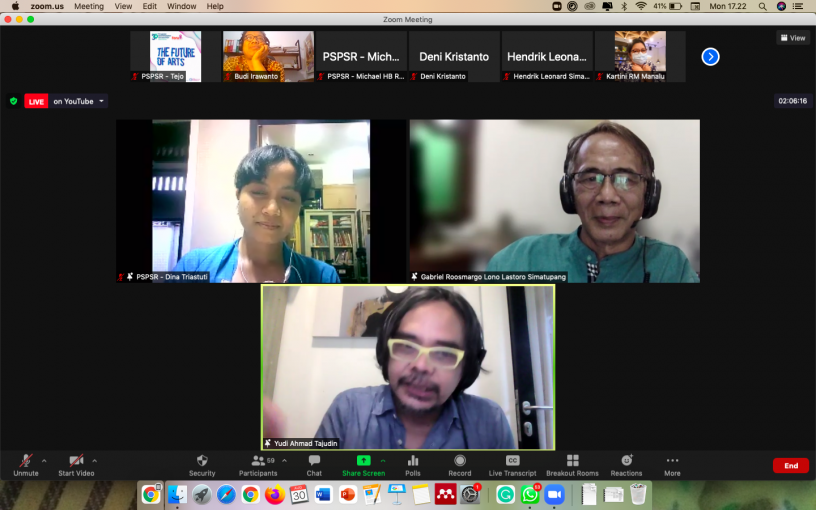 On Monday, August 30, 2021, Forum30 was again held and running in its 5th edition. Forum30 as a series of the 30th Anniversary of PSPSR UGM "The Future of Arts" in this 5th edition raised the topic "Menjelajahi Pergelaran Tertayang", with Yudi Ahmad Tajudin (Teater Garasi) as a resource for the discussion, G.R. Lono L. Simatupang (PSPSR UGM) as responder, and Dina Triastuti (Kalanari) as moderator. Sixty-nine participants attended this discussion through the Zoom Meeting platform, and 8 participants took part in this discussion through a live stream through the "PSPSR UGM" YouTube channel.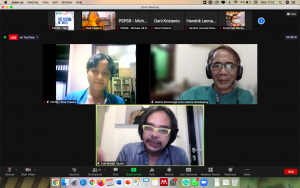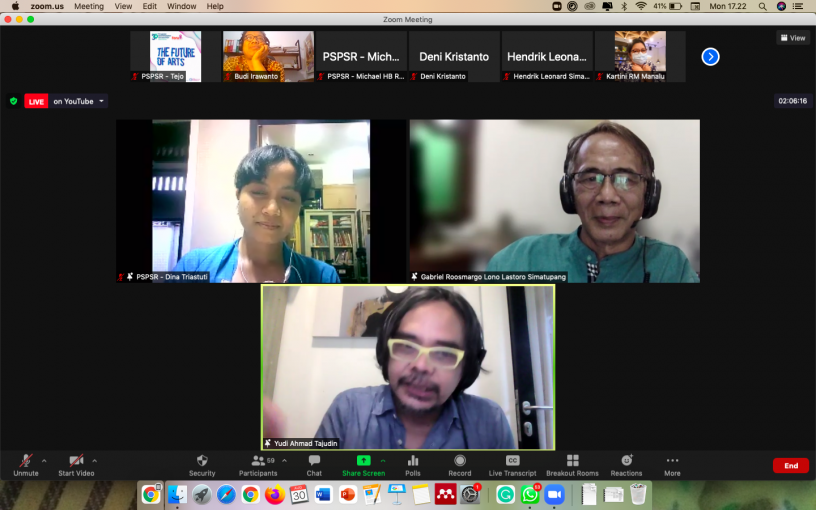 In his speech, Dr. Budi Irawanto (Head of PSPSR Doctoral Program) said that our topic was a derivative of the big theme "The Future of Arts," one of which was triggered by the pandemic phenomenon, how art is produced, presented, discussed, and circulated in the future. Furthermore, this discussion looks further into how the future of art is emerging in specific art fields. "Continuing the conversation about art-data, new media art, and so on, and this time we will look specifically at how performing arts position themselves in a pandemic condition and especially in the era of digital technology which certainly raises new challenges when screen culture is in dominant position," said Budi.
Yudi Tajudin explained the project "UrFear: Huhu and the Multitude of Peer Gynts." Yudi explained the show network with a modular approach, which was staged on a specially designed interactive website. Modular is a method for working with diversity, both in terms of the diversity of issues and the aesthetic diversity of the collaborators—next, modular experimenting with various modes of performance in a plural-universe (pluriverse). UrFear is "staged" on a scheduled basis for one month; there are certain hours and days on the website from October 31, 2020, to November 30, 2020.
Multitude of Peer Gynts is part of a long project that started in 2018. Multitude of Peer Gynts is an inter-Asian contemporary theater collaboration project that explores and performs "fear/anxiety" and "mobility/immobility" issues in contemporary Asia using Henrik Ibsen's manuscript, Peer Gynt, as a dramaturgical framework.
Research and work in progress in Flores (June-July 2019), Tokyo (August-September 2019), and Shizuoka (October-November 2019). The premiere of the performance will take place at the Shizuoka Performing Arts Center (SPAC) on November 4-19, 2020.
The planned performances for July 2020 and beyond should be in Yogyakarta, Jakarta, and other countries. However, due to the pandemic in March 2020, this project will not be physically implemented. At the same time, discussions about live performances being transferred to digital format and via the internet are intensively carried out. Yudi tried to accommodate that, who presented UrFear in a specially designed interactive website. The works, artists, and presentation modes of UrFear: Multitude of Peer Gynts (2020) include (1) "The Search for the Lost Favorite Song," featuring artists MN Qomaruddin, Abdal Majed Danko, Abu Baker, Alyas Hassan, and Alhadi, of which four the last name is a refugee from Sudan who is in Jakarta. The mode of the show is pre-recorded game-theater, with chatbox interactions; (2) "Tana Tani (Tanah Grief)" featuring East Flores Theater Artists (STFT). Concept and directing by Silvester Hurit and Inno Koten, who played the film-theater mode (pre-recorded); (3) "On the Origin(s) of Huhu" by Abdi Karya, which is presented in a lecture mode (Live) with multi-camera; (4) "Monopoly: Assylum Edition" by Andreas Ari Dwianto. It features a monologue with an interactive digital-game monopoly; (5) "About the Ghost Worker Dancing in Your Shoes" Arsita Iswardhani, The mode of the show is (live) long-durational performance (4 hours) with two cameras; (6) Venuri Perera's "On Gaze and Anonymity (or See You Don't See Me)" with recorded lecture performance mode; (7) Darlane Litaay's "Dancing with the Minotaur" is a solo dance recorded with 6 cameras and 6 angles where the audience can choose which angle will be their point of view; (8) "Savior for Beginners" from Gunawan Maryanto with a monologue/interactive lecture (live) performance mode where the audience is free to choose the costumes, narration, and style to be displayed; (9) "Aase's Dreams" by Micari Fukul, which features a recorded film-theater mode; and (10) "Huhu's UrSound" by Yasuhiro Morinaga in collaboration with Nyak Ina Raseuki. They put on a recorded sound/audio show.
Yudi said that when Teater Garasi found out that they could not perform due to the pandemic, they were reluctant to do online shows. However, the reflection on the issues raised in the project UrFear: Multitude of Peer Gynts about fear and anxiety and mobility and immobility is considered very appropriate to the conditions experienced. Therefore, they consider the issue mandatory but with the development of digital technology by inviting Wok the Rock as one of the collaborators. The staging room through the website is an exclusive space setting to represent the space and physical stage of the performance. They still prioritize the concept of "here and now" to still be simulated to maintain liveness, intimacy, and interactivity.
In addition, online performances also consider the nature of the internet to provide audience experiences in enjoying online performances that cannot be found in live (offline) performances. The concept of online live performances provides a new creative power, for example, providing the audience with the opportunity to gain new affection and experience in enjoying performances with new modes as a reinterpretation of intimacy and interactivity even though they are in a different real space. Beyond the discussion, the dialogue that takes place both on the artistic agenda and on the political agenda in the media can open a wider, newer sensibility for these media.
What was conveyed by Yudi Tajudin was in line with the response from Lono Simatupang, who started by inviting him to see the events of the performance from the audience's point of view. The virtual space provides affection and an interactive experience when the audience is actively involved in the game with the artist. Alternatively, the audience makes their own, for example, by "nonton bareng" which is done with a mature setting to become a new atmosphere in watching online shows. The freedom and new habits of the audience to enjoy online shows need to be explored. Growing online performance service providers starting from ticketing, merchandise center, which became new specialists.
Discussion archive can be accessed HERE.